Duffy: How he ended being part of our plush animal family
Duffy , the Disney created Teddy Bear is popular around Disney fans but we aren't and at the beginning we had no idea about him, just that Father Bunny brought him home one day.
A Sad Beginning with a Happy Ending
As much as we love Duffy, we can't help but feel saddened by the circumstances that led to him being abandoned. It's hard to imagine that someone could simply tire of a beloved stuffed animal and cast it aside without a second thought.
A Message to Plush Animal Lovers Everywhere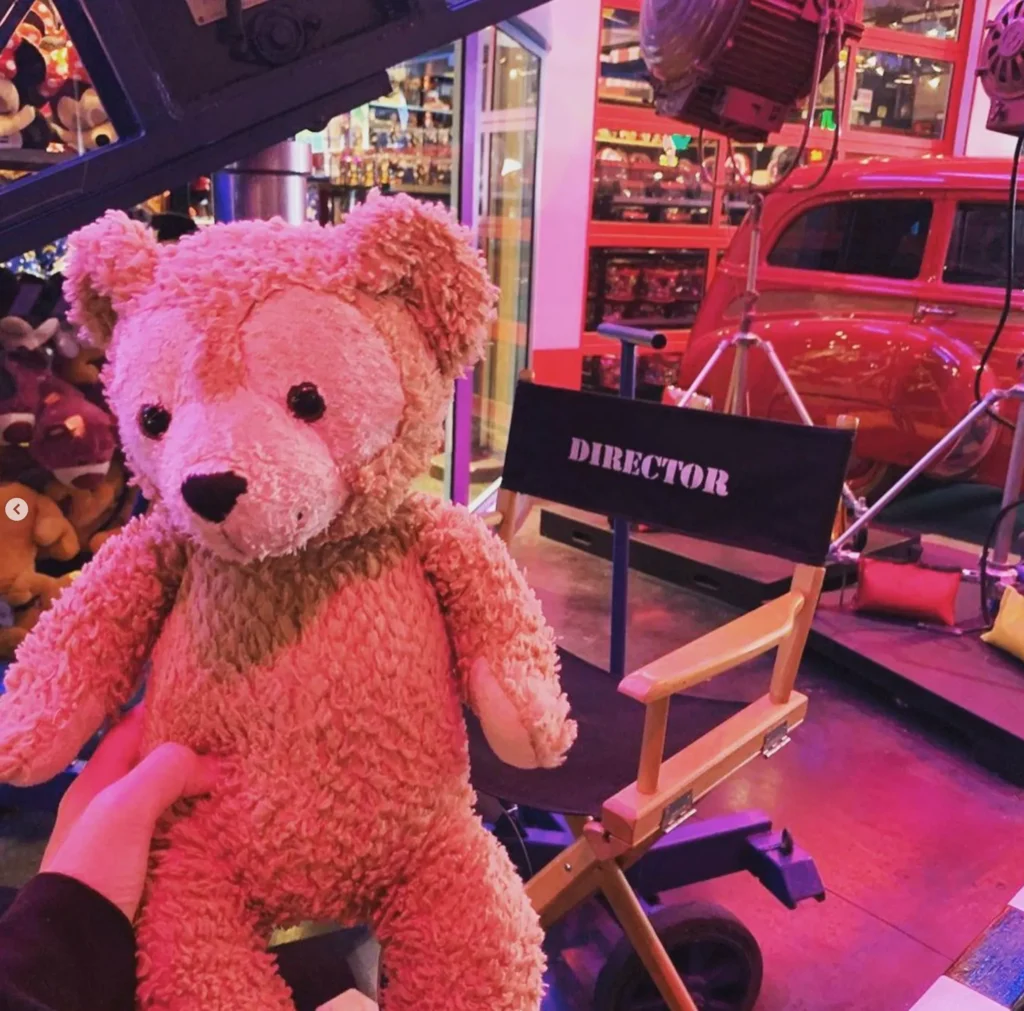 Fortunately for Duffy, Father Bunny found him and brought him into our home. Now, he's surrounded by love and affection, and we're thrilled to be able to give him the happy live he deserves
As much as we adore our stuffed animal family, we know that not every animal is as lucky as Duffy. That's why we're passionate about spreading the message of responsible animal ownership.
If you have a stuffed animal that you've outgrown or no longer have room for, please don't just throw it away. Consider finding it a new home where it will be cherished and loved.
There are many organizations that accept donations of gently used stuffed animals, and they would be thrilled to put your old friend in the hands of someone who will appreciate it.
The Failed Teddy Bear Turned Disney Mega Star
If you love Disney's stuff or you are a regular visitor of Disney's parks, you may have seen a cuddly teddy bear named Duffy but at first he was a perfect stranger for us.
We made some research and here it is what we have founded. He's become quite popular in recent years, but did you know that he actually started out as a failed product?
Introduction
Duffy Bear is a teddy bear character created by Disney. He was initially designed as a plush toy to be sold exclusively at Tokyo DisneySea, but has since become a popular character at Disney Parks around the world.
The Birth of Duffy Bear
Duffy Bear was created in 2002 by Disney Imagineer Joe Rhode. Rhode was tasked with creating a new character for Tokyo DisneySea, which was set to open in 2001. He decided to create a teddy bear character that could be sold as a souvenir, and thus Duffy was born.
Duffy's Initial Failure
Despite the efforts put into designing Duffy, he was a flop. The merchandise didn't sell as well as expected, and many visitors to the park were confused about who Duffy was and what he represented. For a while, it seemed like Duffy would be forgotten as just another failed product.
A New Beginning
In 2004, the Disney team decided to give Duffy a second chance. They introduced a new character, ShellieMay, who was Duffy's friend and traveling companion. The addition of ShellieMay added a new dynamic to Duffy's story and gave him more depth as a character.
The Introduction of ShellieMay
ShellieMay was introduced as a plush toy in 2010, and her popularity quickly grew. She was designed to be Duffy's companion, and her backstory was that she was created by Minnie Mouse as a gift for Duffy. ShellieMay is a pink teddy bear with a cute polka dot bow and a heart-shaped nose.
The Expansion of Duffy's Story
With the introduction of ShellieMay, Duffy's story began to expand. Disney started releasing books and merchandise that featured Duffy and ShellieMay on their adventures around the world. The characters became more than just plush toys – they were now beloved characters with a rich backstory and a devoted fanbase.
The Launch of Duffy at Disney Parks
In 2011, Disney decided to introduce Duffy to other parks around the world. They launched Duffy at Walt Disney World, Disneyland Paris, and Hong Kong Disneyland. Duffy quickly became a hit, and visitors to the parks were eager to take home their own cuddly teddy bear.
The Popularity of Duffy and ShellieMay
Today, Duffy and ShellieMay are incredibly popular characters at Disney Parks around the world. They have their own meet-and-greet locations, and visitors can take photos with them and even buy their own Duffy and ShellieMay plush toys.
Duffy Around the World
Duffy has become especially popular in Japan, where he was first introduced. The Japanese have embraced Duffy and have even created their own backstory for the character. There are Duffy-themed cafes, stores, and even a Duffy-themed
Duffy's Merchandise Success
Duffy's popularity has also translated into merchandise success. Disney has released a wide range of Duffy and ShellieMay-themed merchandise, including clothing, accessories, home decor, and even food and drink items. Visitors to Disney Parks can find exclusive merchandise featuring the beloved teddy bears, and fans can also purchase items online.
Duffy's Impact on Disney
Duffy's success has had a significant impact on Disney. The character has not only become a popular souvenir and plush toy, but he has also inspired a sense of community among Disney fans. The teddy bear has brought people from all over the world together, and his story has helped to create a sense of shared experience and joy.
The Future of Duffy Bear
As Duffy's popularity continues to grow, it's clear that he is here to stay. Disney has continued to release new merchandise and expand the characters' story, and there are no signs of slowing down. Duffy and ShellieMay are sure to continue to be beloved characters for many years to come.